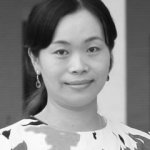 Outreach Officer/Researcher (April 2017 – August 2019)
Bei Ju (Ph.D., 2018, University of Macau) is an Outreach Officer and Researcher at the United Nations University Institute in Macau. She is responsible for developing institutional strategies to identify, strengthen, and manage partnerships with academic institutions as well as explore opportunities for research fundraising.
Her research interests focus on the nexus between ICTs and migration within intercultural communication. At UNU Institute in Macau she works within the Migrant Tech team conducting research on the use of social media (e.g., WeChat) in the lives of Mainland Chinese migrant workers in Macao.
Prior to joining UNU Institute in Macau, Jenny was a lecturer at Beijing Normal University (Zhuhai) and a part-time lecturer at the University of Macau. She was also a visiting academic at the University of Gloucestershire.
PROJECTS
During her time at UNU Institute in Macau, Jenny was part of the following projects:
Migrant Tech
EQUALS Research