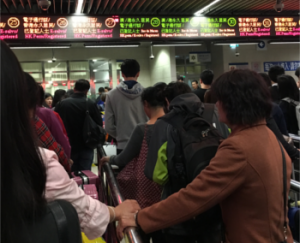 This activity investigates the use of ICT, in particular social media, in the cross-border life of low-skilled mainland Chinese dual migrants. "Dual migrants" are individuals who have left family and friends in other provinces of China and moved to Zhuhai, and migrate daily across a regulated political border.
SUMMARY
This study explores the perceived affordances of social media (WeChat, the most popular social networking service, SNS, in China) in the cross-border life of those low-skilled mainland Chinese dual migrants in Macau, China. We recruited 24 low-skilled mainland Chinese dual migrants (13 male security guards; 11 female cleaners) to participate in in-depth interviews, group discussions, and WeChat conversations.
These sessions revealed that, on the one hand, mainland Chinese dual migrants are found to be in vulnerable conditions suffering precarity, loneliness, discrimination, and toil in cross-border life. They are isolated from local society and they are also labeled as outsiders due to their occupation, language, and place of origin. Thus, "mainlander" has become their stigmatized ethnicity in Macau.
On the other hand, they desire for digital empowerment and online adaptation built upon their structured agency (e.g., not well-educated and low-skilled). WeChat is perceived as a digital mediated space affording solidarity, conviviality, cognizance, and monetization. In terms of structural empowerment, dual migrants enjoyably seek online support from bonding and maintaining social capital, and to access information related to job vacancies and their host environment.
In the future, this project seeks to explore the new media literacy skills and civic participation among cross-border migrant workers.
CONTEXT AND MOTIVATION
The dichotomy of internal and international does not fully reflect the patterns of migration. Mainland Chinese labor migrants in Macau are a special case. Though their migration is closely tied up with crossing the border, mainland workers' migration has occurred within one country (China) since 1999 when Macau was successfully handed over to China. When they cross the Zhuhai-Macau border, dual migrants are exposed to a more diversified social media environment. WeChat is the best tool for dual migrants to use wherever they are, in Zhuhai or Macau. This activity aims to make sense of how dual migrants perceive their WeChat usage in the migratory experiences.
RESEARCH QUESTIONS
This activity seeks to address the following key question:
What are the perceived affordances of WeChat for mainland Chinese dual migrants in Macau?
RESEARCH METHODS
This is a qualitative research by conducting observations, field work, in-depth interview and group discussion.
The activity, at the initial stage, conducted five in-depth interviews (lasting from 20-35 minutes each) to gain a preliminary understanding of social media usage and adaptation of mainland Chinese migrant workers in Macau.
Seventeen in-depth interviews and two group discussions were conducted to make sense of WeChat usage perceived by dual migrants in border crossing.
FEATURED PAPERS
Ju, B. (2016). The Power of WeChat and Acculturation. 66th International Communication Association Annual Conference (ICA), Fukuoka, Japan, 9-13 June.
KEYWORDS
Affordance, WeChat, Digital Adaption, Mainland Chinese, Dual Migrants
UNU Institute in Macau TEAM
Jenny Ju