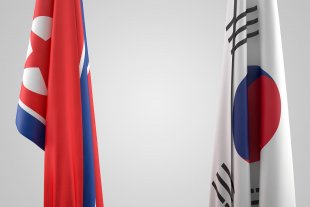 This research examines the role of digital technology in the migratory experiences of North Korean women who flipped their home between two Koreas. It focuses on how mobile communications play into their journey from North Korea as well as their resettlement in South Korea.
MOTIVATION
Every year hundreds of North Koreans cross the Tumen River running through the Sino-Korean border in the search for a better life elsewhere. Among them, about 31,000 North Koreans, who are mostly women from the borderland, managed to settle in South Korea. Their migratory experiences involve a dramatic transition between the two highly distinct societies. In the aspect of technology, it also indicates the flipped contexts as they transposed themselves from one of the world's most digitally-oppressed society to one of the most digitally-oriented societies. Throughout these experiences, ICTs, particularly mobile phones, become an essential means to assisting their pursuit of situated agency.
RESEARCH QUESTIONS
Recent literature discusses how digital technology empowers migrants but more research is needed for nuanced understandings of migrants' use of technologies in their everyday life. Using the lens of mobile use behaviors, this research aims to zoom into the struggles and negotiations of North Korean women in the course of transition to and reconstruction in South Korea.
How do mobile phones play into the transitional experiences of North Korean women from the North to the South?
How do North Korean women in South Korea use digital technologies, particularly mobile phones, to help their resentment process, particularly as to manage existing socio-cultural barriers in the South?
RESEARCH METHODS
The research adopts a qualitative analysis of the 20 in-depth interview data with North Korean women currently living in South Korea as well as participatory observation on a government-funded IT training course for North Koreans in South Korea.
RESEARCH FINDINGS
The preliminary findings include that their mobile use in North Korea and during the journey was clandestine and fraught with danger, including restricted and dangerous access to mobile phones, via smuggled Chinese mobile phones in North Korea. However, it was also a critically instrumental for the escape. By contrast, in their flipped home in South Korea where not having a mobile phone is a problem, their use of mobile is structured in everyday life while it is somewhat hindered by discrimination and re-designed for their need of anonymous bridging. In particular, the data suggested that North Korean migrants use ICTs strategically to avoid direct interaction with South Koreans and hiding their identity behind anonymous computer-mediated communications.
FEATURED PAPERS
Kang, J., Ling, R. & Chib, A. (forthcoming) "The Flip from Fraught Use to Assumed Use: Mobile Communications among North Korean Migrants in South Korea", in 68th Annual Conference of the International Communications Association, Prague, Czech Republic, 24-28 May 2018.
Kang, J., Ling, R. & Chib, A. (2017) "Strategic Use of ICT among North Korean women migrants", in Proceedings to the International Conference on Information Communication Technologies and Development (ICTD) 2017 Note Session, Lahore, Pakistan, 16-19 November 2017.
KEYWORDS
Mobile Communications, Migration, M4D, North Korea, Defectors
UNU Institute in Macau TEAM
Juhee Kang