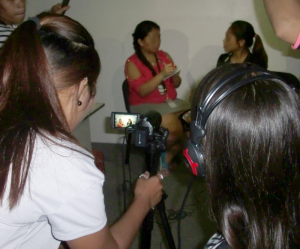 Without adequate opportunities and job skills, survivors of exploitation and abuse are vulnerable to re-trafficking. To address this, many service providers offer vocational training. This research investigates the impact of digital skills training using a participatory video approach, on the well-being of survivors, as well as how the training program and the security of high-skilled employment affect recovery and reintegration.
RATIONALE & MOTIVATION
One of biggest concerns of trafficking survivors is what they will do when they leave the immediate post-trafficking service provider. Economic and financial factors are often a main motivation in the decision to migrate in the first place, and survivors are similarly concerned about how they will make a living post-trafficking. Although aftercare organizations commonly provide vocational training programs, many of these are very limited, gendered training options (such as cooking, knitting, or sewing), vocational training that are not relevant to local job markets in survivors' home communities, or vocational training without access actual employment opportunities because of lack of linkages to actual businesses. When inadequate employment options are provided to trafficked persons after their exit from human trafficking, survivors may experience worse financial difficulties than before they were trafficked and be vulnerable to re-exploitation.
This research proposes to contribute to the understanding of technology-based training in the post-trafficking stage by partnering with a local social enterprise (SE) in the Philippines that provides ICT-based training, core skills training, and employment to survivors of exploitation and abuse. Specifically, the activity investigates the impact of digital skills training on the psychosocial well-being and self-concept/self-image of the survivors. It also explores how the training program and the security of high-skilled employment affect recovery and reintegration.
RESEARCH QUESTIONS
The research aims to answer the following questions:
Is working in a high skills environment different from working in a vocational environment of any value to the employees? Why? Would it be different if it would be other activity rather than ICTs related?
Are individuals using their skills (digital and life skills) outside the work environment? If so, how is this affecting their recovery and reintegration?
How does digital and life skills training affecting the psychological and the social wellbeing of the employees? How are these affecting, modifying, challenging their identities (i.e.: see themselves as professional workers)?
RESEARCH OBJECTIVES AND METHODS
The research aims to produce knowledge and policy implications regarding the use of technology by practitioners/stakeholders to support structural empowerment, human dignity, and physical integrity during the post-trafficking/reintegration phase. The research will particularly examine the impact on survivors' self-esteem/self-efficacy of high-skilled and non-gendered work.
This activity makes use of a participatory video approach. Survivors take part in a two-week participatory video workshop in which they produce self-reflexive films about their experiences with the training program. The films that participants produce provide insight into how they experience the organization's use of ICTs for employment to improve their condition. The participatory video method was chosen as it avoids extractive methods that benefit only the researcher, supports the control and choice of participants, and allows a breakdown of the traditional hierarchical relationship between researcher and research subject. At the end of the training course, survivors and managerial staff at the social enterprise take part in one-on-one, in-depth interviews to understand their perceptions on digital and life skills training, and the participatory video approach.
FEATURED PAPERS
KEYWORDS
Participatory Video, Core Skills Training, Survivors of Sexual Exploitation
UNU Institute in Macau TEAM
Hannah Thinyane, Don Rodney Junio