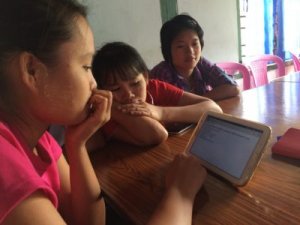 Myanmar is a country undergoing deep political, economic and social transformations, as well as an explosion in access to ICTs.  This research analyses how ICTs are being perceived and used, and how these impact psychosocial wellbeing.
---
This project is no longer active at UNU Institute in Macau
---
MOTIVATION
Given the UNU Institute in Macau focus on Peace, and inspired by the positive psychosocial impacts reported in various studies (refer to attached project description document), this research aims to explore whether ICTs can be used specifically to improve individuals' psychosocial wellbeing (PSWB) as an alternative way of supporting peace-building efforts. Authors argue that addressing and transforming trauma is imperative for peace-building, and in this area, an initial literature review indicates there are only a few studies in which ICTs are directly used for peace-building by addressing psychosocial wellbeing.
THE CONTEXT
This research focuses in Myanmar, a country that is undergoing an explosion of ICTs, along with deep political, economic and social transformations. According to the ITU, in 2012, only 7% of the population had access to a mobile phone, growing to 76% in 2015. This research works with two partners in Myanmar, and aims to analyse how ICTs are being perceived and used, and how these could possibly aid peace-building efforts. The first partner, the Myanmar Book Aid and Preservation Foundation (MBAPF), offers a Mobile Information Literacy (MIL) course to a wide variety of audiences, from librarians to government officers. The second partner, UNDP Myanmar's iWomen App project, is an app aiming to inspire women, in particular the members of the May Doe Kabar National Network of Rural Women, a peer support structure connecting over 22,000 women. Leveraging these two case studies allows this research to have different perspectives of how ICTs are being used in Myanmar, but also allows the comparison of two cases where only one was designed to impact the psychosocial wellbeing of the users (iWomen app).
THEORETICAL FRAMEWORK
Drawing on the Capability Approach and Critical Pedagogy this research considers the need for social arrangements to focus both on the social and psychological wellbeing of individuals. The term psychosocial is here understood from a critical psychosocial perspective, namely it focuses both on the bodily (social) and emotional (psychological) wellbeing, and was operationalised as the following resources:
Material: Mobile and desktop ownership and usage, and reasons for non-usage.
Financial: Income level.
Education: Digital skills.
Psychological: Autonomy, personal growth, purpose in life, self-acceptance and positive relations with others.
Cultural: Gender, Ethnicity and Religion.
RESEARCH METHODOLOGY
Using action research and qualitative, quantitative and participatory methodologies this research occurs in three phases:
Exploration of current practices;
Identification of best practices and shortcomings in order to propose a new methodology based on Freire's critical pedagogy;
Implementation and analysis of the aforementioned methodology and the overall relationship of ICTs and psychosocial wellbeing.
Data will be compared within each intervention and between interventions. The same methodology will be used with both research partners, enabling comparison among them.
RESEARCH QUESTIONS
What are the most common impacts on PSWB on projects, which did not aimed for this kind of impact?
What role do ICT have or could they have in supporting PSWB as defined for this research?
What methods of implementation need to be considered to effectively incorporate ICT into initiatives aimed at the improvement of PSWB?
How can ICT initiatives focusing on PSWB, supplement the effort of those working on the ground, who usually lack both human and financial resources to attend all the populations?
RESEARCH OUTPUT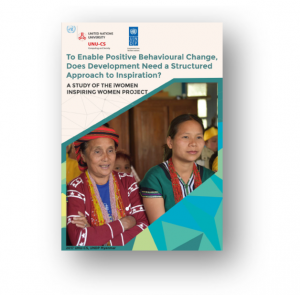 To Enable Positive Behavioural Change, Does Development Need a Structured Approach to Inspiration? A Study of the iWomen Inspiring Women Project
By Dr. Sammia Poveda and Eleonora Gatti
KEYWORDS
Capability Approach, Critical Pedagogy, ICTs, Psychosocial Wellbeing, Critical Agency
UNU Institute in Macau TEAM
Sammia Poveda
RESEARCH BRIEF
Click here to download a short document with research details about the project.