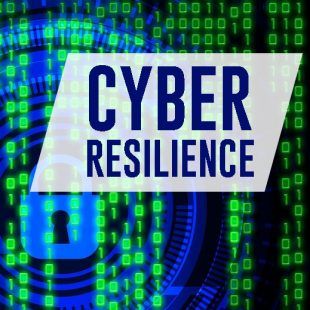 This project aims to enhance the resilience of citizens and civil society stakeholders in smart digital futures, both in Macau and around the world.
MOTIVATION

Information and communication technologies are part of the critical infrastructure that supports all areas of our lives, from health and transportation to entertainment and leisure services. 
Cyber resilience enhances the ability of individuals, communities, cities, and countries to achieve the desired level of functioning in the face of adverse cyber incidents – which can emanate from technical or socio-technical, as well as natural or man-made sources. Resilience as a goal is articulated in Sustainable Development Goal 11 "Sustainable cities and communities", the New Urban Agenda, as well as in the Sendai Framework.
Despite the potential impacts of adverse cyber events on individuals and civil society stakeholders, cyber resilience has traditionally been considered from the perspective of governments, private sector companies, and organizations. It is typically considered from the single domain of technical systems, hence towards ensuring the resilience of critical information infrastructure, operational technologies, and information and communication technologies infrastructure.
This perspective fails to take into consideration the multi-dimensionality of cyber resilience and also neglects the role and the responsibilities of the civil society stakeholders towards co-production of cyber resilience. It also fails to recognize cyber resilience as an attribute of the whole system and as requiring a whole-of-society approach.
ACTIVITIES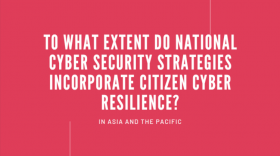 National Cybersecurity Strategies Review
A review of the National Cybersecurity Strategies (NCS) of countries in the Asia and Pacific region to investigate the extent to which they foreground and mainstream whole-of-society cyber resilience in the strategies.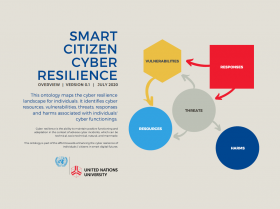 SMART Citizen Cyber Resilience Ontology (SC2RO)
Modelling the citizen cyber resilience domain knowledge to identify the resources (assets), vulnerabilities, threats, reponses (countermeasures), and harms (impacts). The ontology identifies socio-technical cyber threats and maps countermeasures along the four resilience phases of prepare, absorb, recover, and adapt.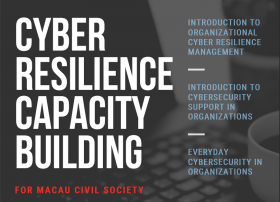 Cyber Resilience Capacity Building
Undertaking cyber resilience capacity building for civil society stakeholders, initially in Macau and later in the Asia Pacific region. This is undertaken through a set of workshops targeted at various roles within third-sector organizations i.e., managers and directors, IT support personnel, and general staff. Another set of capacity-building activities are targeted at individuals.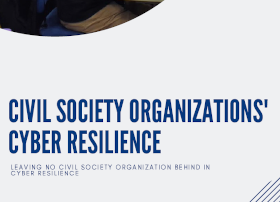 Civil Society Organizations Cybersecurity Landscape
Investigating the cybersecurity posture of local civil society organizations (CSOs). This activity is undertaken through surveys and interviews with the directors of local CSOs to understand cybersecurity preparedness, risk appetite, exposure, and experience of adverse cyber incidents.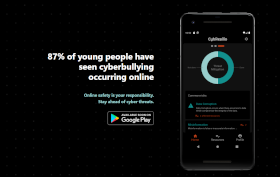 Developing tools to enhance the resilience of individuals against cyber threats. CybResil.io helps individuals keep track of their digital resources, monitor threat exposure, and undertake recommended counter measures.

TEAM MEMBERS
Mamello Thinyane, Debora Christine, Christy Un, Vitoria dos Santos
PROJECT BRIEF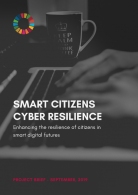 RELEVANT OUTPUTS / FEATURES
ENGAGEMENTS
Thinyane, M & Christine, D (2020). Invited Panelist "

Smart Citizen Cyber Resilience in Asia and Pacific

", Building Digital Resilience for COVID-19 Response and Recovery webinar series by IEEE Standards Association and eWorldwide Group, 14th – 16th April 2020

Thinyane, M & Christine, D (2020). Invited Panelist "

Co-production of Cyber Resilience Beyond COVID-19

", Building Digital Resilience for COVID-19 Response and Recovery webinar series by IEEE Standards Association and eWorldwide Group, 9th July 2020

Thinyane, M. (2020). Invited Panelist "

Marginalization in urban intelligence for healthy and resilient cities

", China Association for Science and Technology – 20th Green Development Innovation Conference, 27th October 2020

Thinyane, M. (2020) Invited Panelist

"Cyber resilience and awareness for society – fostering collaboration with ITU

", ITU Regional Development Forum – Asia Pacific, 4th November 2020

Thinyane, M. (2020) Invited Panelist "

All of Society Cyber Resilience

" UNESCAP Experts Group Meeting on Digital connectivity and e-resilience for crisis preparedness, 10th November 2020
IN THE NEWS
FUNDER
This work is supported by the Science and Technology Development Fund of Macau (FDCT) under Grant No. 0016/2019/A.

PARTNERS

ADDRESSING THE FOLLOWING SDGs