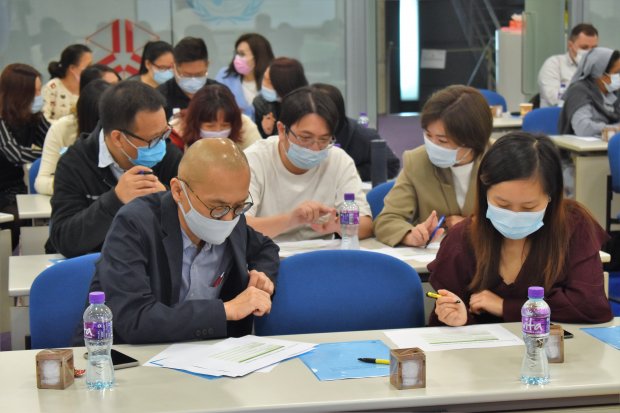 This activity is undertaking cyber resilience capacity-building for civil society stakeholders, initially in Macau and later in the Asia Pacific region. Cybersecurity skills development and capacity-building is one of the critical steps within the "prepare" phase of cyber resilience. It enables stakeholders to gain awareness of their cybersecurity landscape and posture, understand the relevant countermeasures that they can employ, and to also understand the potential impacts of unmitigated cyber risks.
This activity is undertaken through a set of workshops targeted at third-sector organizations and individuals. For the third-sector organizations, the following introductory workshops are provided:
Introduction to Organizational Cyber Resilience Management

: This introductory workshop is targeted at managers and directors of third-sector organizations. It aims to provide the participants with a basic understanding of organizational ICT management, risk management, cyber security management, and the local Macau cybersecurity landscape in terms of legalities and compliance requirements.

Introduction to cybersecurity support in organizations

: This workshop is targeted at non-technical "ICT-support" staff within third-sector organizations. It is intended to provide a foundational understanding of ICT and cybersecurity. It also aims to equip the participants to be able to provide basic support within the organizations and to handle relevant incident escalation.

Everyday cybersecurity in organizations

: This workshop is aimed at all personnel within organizations. The aim of this workshop is to enhance the ability of individuals to practice good cyber hygiene and to use cyber resources safely and securely.
RELEVANT RESOURCES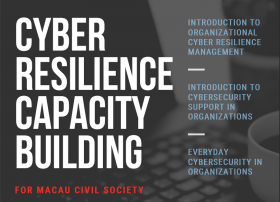 Cyber Resilience Capacity Building Brochure
This brochure provides details of the capacity building workshops that are undertaken to enhance the cyber resilience of civil society stakeholders (in Macau).
Download the brochure here.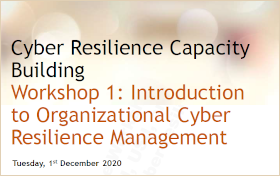 Workshop 1 Training Materials
These are the slides for Workshop 1: Introduction to Organizational Cyber Resilience Management. They are made available under the Creative Commons
Attribution-NonCommercial-ShareAlike 3.0 IGO license.

Download the slides here.

GETTING INVOLVED
Get in touch with us at cyber-resilience@unu.edu for inquiries about upcoming capacity-building sessions.
IN THE NEWS
Over 45 participants attend first UNU Macau cyber resilience workshop, Macao News, 3 Dec 2020
UN institute launches cyber resilience workshops for civil society organizations, Macau Business, 3 Dec 2020
IN COLLABORATION WITH
The training in these workshops is delivered by a team from UNU Macau and the following collaborating organizations.