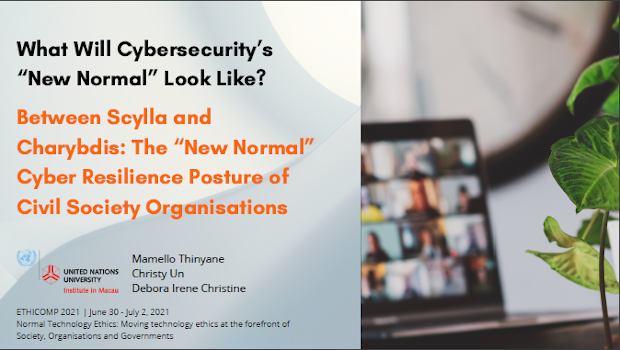 Civil society organisations (CSOs) play a critical role in society towards sustainable development – providing social services and promoting citizen participation. Increasingly, CSOs are relying on digital technologies for their operations. However, with their increasing reliance on digital technology, especially during the ongoing pandemic, CSOs are also being exposed to cyber threats that are affecting their operations. Further, worldwide, CSOs remain marginalised in the dominant cybersecurity narratives, discussions on cybersecurity, and strategies on cyberspace.
This activity is investigating the cybersecurity posture of local civil society organizations (CSOs) to understand cybersecurity management practice, preparedness, risk appetite, exposure, and experience of adverse cyber incidents. It is undertaken through surveys and interviews with the management of local CSOs.
The key findings from this activity are discussed in the report titled "Civil Society Organizations' Cyber Resilience – leaving no civil society organization behind in cyber resilience" which observes that CSOs remain in a precarious and vulnerable cybersecurity situation due to their lack of resources, expertise, capability, and influence to manage their cybersecurity effectively.
The report recommends that civil society organisations:
undertake capacity-building for senior management,

adopt appropriate cyber resilience management models,

allocate and prioritise funding for cybersecurity,

undertake targeted organisation-wide capacity-building,

leverage external support and partnerships for cybersecurity.
As far as the private sector is concerned, the report recommends that they:
define clear service level agreements for CSOs with specific cybersecurity commitments

provide context-sensitive and informed solutions to CSOs.
Finally, the project recommends for the governments (especially in their role as funders) to:
prioritise cybersecurity in CSOs' funding instruments,

strengthen the local cybersecurity ecosystem to provide specific support for CSOs,

provide capacity-building for CSOs,

develop locally relevant cybersecurity resources for CSOs,

strengthen cybersecurity threat intelligence research and communication.
RELEVANT RESOURCES
Recommendations for civil society organizations
Recommendations for governments
Recommendations for the private sector
RELEVANT OUTPUTS / FEATURES
Un, Christy, Thinyane, Mamello and Christine, Debora (2021). Civil Society Organizations' Cyber Resilience – leaving no civil society organization behind in cyber resilience. United Nations University.
Thinyane, M; Un, C & Christine, D; (2021), Between Scylla and Charybdis: the "New Normal" Cyber Resilience Posture of Civil Society Organizations, ETHICOMP 2021 – New Technology Ethics